(Photo by Dan Kitwood/Getty Images)
Massive win for working people as Supreme Court rejects employment tribunal fees
The Supreme Court has unanimously ruled that the government's sky-high tribunal fees are unlawful, accepting UNISON's argument that the fees are restricting working people's access to justice.
What's more, the government will have to refund any fees paid since 2013 — at a cost of about £27m.
It's a massive win for working people, and we congratulate UNISON for doggedly pursuing this case.
When tribunal fees of up to £1,200 per case were introduced in 2013, it very quickly became clear that many working people could no longer afford to uphold their rights at work.
The number of cases taken has dropped by nearly 70%. Low-paid and insecure workers have all but lost their ability to take cases, whether on non-payment of the national minimum wage, unauthorised deductions from pay, or even unfair dismissal. Only union members and the well-off were guaranteed access to justice.
And the number of discrimination cases has gone through the floor too, hurting women, workers with disabilities, black and minority ethnic and LGBT+ workers who have been unfairly treated or harassed.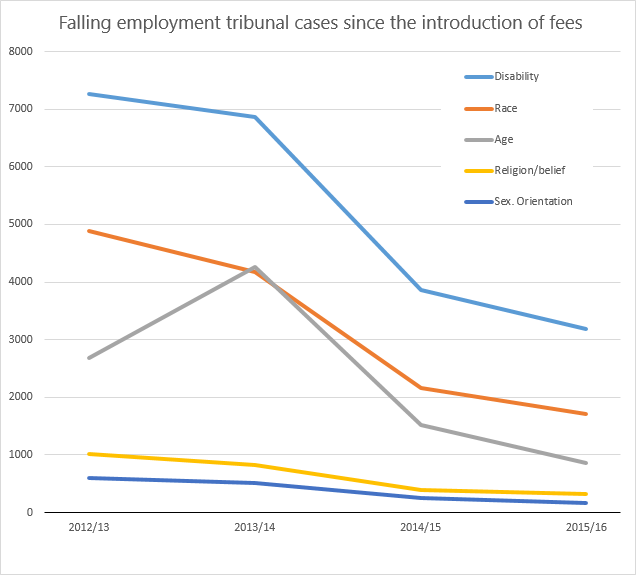 The fees have been a bonanza for bad bosses, giving them a free rein to mistreat staff. As UNISON rightly argued, access to the courts is a vital component of the rule of law. Working rights aren't worth the paper they're written on unless they can be enforced.
This is a resounding defeat for the government, and they must act immediately to implement the court's finding. Any fees paid should be refunded as soon as possible. But even then, we'll never know how many people have missed out on justice over the last four years because they couldn't afford to pay for it.
Above all, today's result shows the value of working people standing together in trade unions. This decision will have a lasting impact, making sure people can enforce their employment rights.
The government priced workers out of justice, sending the message that fair treatment is a luxury, not a right.
Today, they've been proved wrong.